ABOUT THE BOOK
Since its publication in 2008 Brand Meaning has been a sought-after text by marketing professionals, business schools and universities. It has been translated in several
languages
.
Completely revised and updated by the author, this second edition of the book contains contemporary as well as classic examples of brand meaning in practice from various countries. Much new material is introduced, expanding on the theory and applications of brand meaning.
In Brand Meaning, Second Edition: Meaning, Myth and Mystique in Today's Brands Mark Batey draws on his experience with leading international companies to explain the conscious and unconscious ways in which people connect with products and brands.
PRAISE FOR BRAND MEANING 2ND EDITION
"Mark Batey offers an incredibly comprehensive and perceptive examination of the critical subject of brand meaning that illuminates, inspires and amply rewards the reader for every minute spent."
Kevin Lane Keller, E.B. Osborn Professor of Marketing, Tuck School of Business
"Today, gone are the oversimplifying concepts of brand positioning or brand as a sum of attributes. Rather, brands are to be managed as a kernel of meanings. This is the essential contribution of this excellent book."
Jean-Noël Kapferer, internationally renowned expert on branding and professor at HEC Paris
"This second edition of Batey's original book offers a perfect blend of the theory and practice of brand meaning. It includes a wealth of insightful examples. Highly recommended."
Bernd Schmitt, Professor, Columbia Business School
"A valuable resource for all who study or manage brands."
John Quelch, Charles Edward Wilson Professor of Business Administration at Harvard Business School
"From metrics to myth, I don't know of a better book on this subject."
Michael Burke, Chairman and CEO, Louis Vuitton
"This book offers timely insights as people demand meaningful brands that can become a part of their lives by delivering real personal, social and environmental benefit – helping them to stand up for what they believe in and defend what's important to them."
Paul Polman, CEO, Unilever
"Batey's new book provides brand meaning theory and best practice, but above all it influences its readers with inspiration; inspiration about best brands, their story and perception. An absolute must read for professional and personal enrichment."
Gonzalo Brujó, CEO, EMEA & LatAm, Interbrand
ABOUT THE AUTHOR
Mark Batey, a language graduate of Oxford University, has spent his career working with leading international advertising agencies, and as an independent brand consultant. He is also a visiting professor at various business schools and universities. He has lived and worked in the United Kingdom, Central Europe, Latin America and the United States. Among the companies he has advised are Coca-Cola, Unilever, Nestlé, Kraft Foods, Mondeléz International, Diplomático Rum, and SABMiller.
"In today's postmodern marketing world, transactions and interactions between marketers and consumers are, above all else, exchanges of meanings." (p.8)
"Marketers are engaged not so much in managing a stable brand meaning as negotiating one that is evolving over time." (p.176)
"Certain agencies have been masters of storytelling—as execution. What is new is storytelling as strategy." (p.181)
"As positioning is to products, so story is to brands." (p.181)
"Advertising creates mythical characters, or mythologizes the lives of real ones." (p.185)
"Mystique is an amalgam of mystery, allure and intrigue…. Brand mystique is a product of brand myth—of half-glimpsed truths and plausible fiction." (p.186)
"The foundations of brand meaning are personal, cultural, tribal and mythic." (p.194)
"Brand management, more than ever, will be about the management of meaning." (p.194)
Mark Batey, Routledge "Author of the Month"
Mark Batey, author of Brand Meaning, Second Edition, is the Routledge Psychology Author of the Month for December! Read the exclusive interview and learn more about his fantastic new edition!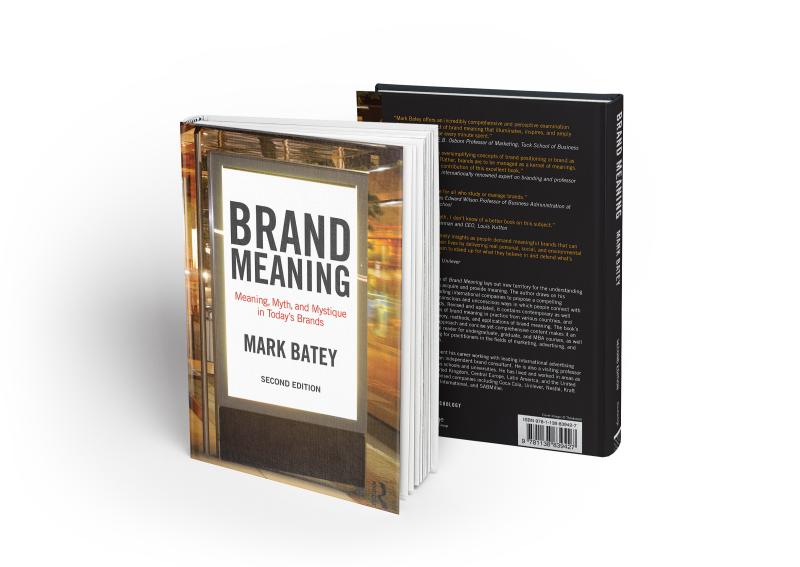 JOIN THE MAILING LIST
For updates and news about
Brand Meaning. 
SOME BRANDS FEATURED IN THE BOOK
WHAT'S NEW?
How is the 2nd Edition different from the 1st? 
If you've read the 1st Edition of Brand Meaning, you'll love the 2nd Edition. While maintaining the same, well-received structure as the original book, the 2nd Edition contains some 35-40% new material. It also has more case studies and examples. Many are from the last ten years or so, and are taken from a number of different countries. The subjects of myth and mystique are introduced in the book as they underpin the success and attraction of some notable brands. Among the other new topics covered are heuristics, audio branding and brand purpose. There is a completely new chapter on brand story. And much more…
WHO'S IT FOR?
The book's multidisciplinary approach and concise yet comprehensive content makes it ideal for undergraduate, graduate, and MBA courses, as well as valuable reading for practitioners in the fields of marketing, advertising and consumer research.